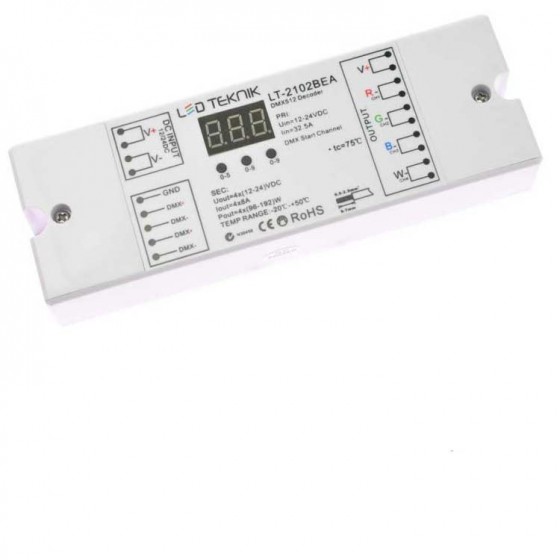 4 Channel DMX Decoder 8A/Channel
The LT-2102BEA 4 Channel DMX512 RGBA or RGBW decoder will drive any of our RGB Flexible strip lightings with the added advantage of driving the fourth channel of either white or amber. The LT-2102BEA is ideal for coupling to the S.T.I.C.K. Range of DMX Controllers. The LT-2102BEA features digital addressing, linear or logarithmic fade curves and 200Hz or 1500Hz PWM frequency.
Output Current: 8 Amps per Channel

Input Voltage: 12 -24 V

Operating Temperature Range: -20 – +50 Degrees C
DMX512 (1990) Compatible
DMX stands for digital multiplex signal. The DMX Decoder can operate/control lighting effects. Different areas require different lighting settings, it is a far more practical option used to create unique lighting scenes that can be well-adjusted to however you want.
The DMX Decoder 4 Channel is specifically used to program lights and change their colour and pattern settings. You can change the aesthetics of your room as well as set a theme according to your commercial space's interiors and architecture.
This DMX decoder takes a DMX signal and provides complete colour and brightness control to the user. You can gain complete access to your LED light controller fixtures with the help of DMX.
Features:
Easy to set up and control
User-friendly channel configuration
Accessible switch for brightness control
Can be used with a single channel
Low voltage technology
Compatible for extensive indoor and outdoor use
Are you looking for a DMX Decoder?
World Of Thought is known to provide high-quality and durable lighting systems and products made for everyday use. We offer exceptional customer support services and provide on-time assistance to our customers.
No matter the type of lighting plan you have in mind, our experts will make it happen. The LED strip lights products undergo a rigorous quality control process at our manufacturing facilities.
Our stock includes everything ranging from a DMX Decoder to high-end LED Drivers.
Feel free to reach out to us at any time of the day or night. Call us on 03 9315 2394 today for a free consultation.
Get A Free Quote